Kunststofftechnik Bernt GmbH (KTB)

Our modern plastic electroplating facility is designed to give a surface finish to plastic blanks made of ABS or ABS-PC. KTB has many years of comprehensive expertise in the electroplating of plastic parts for interior and exterior applications using various chrome surfaces (polished or matte in various degrees of gloss). By electroplating plastic, the metal coatings lend the surfaces a decorative appearance, make them extremely scratch-resistant, give them a firmer bond with better heat-resistance, and protect them from static charge, electrical disturbances (shielding) and the influence of UV light. Due to the different geometries, specifications, surfaces etc. a specific processing program is set up for each individual item in the electroplating machine management system.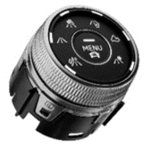 Electroplated plastic parts offer the automotive industry the chance to underline the value of a vehicle with genuine metal and also facilitate outstanding functional integration with a low weight. KTB can offer all the necessary processes for these products under one roof. In our modern electroplating shop, sophisticated injection molded parts are finished with various metal coatings for interior and exterior uses. Different matte surfaces are as much a part of our production spectrum as complex 2–component parts, sometimes also featuring day/night design. Furthermore, KTB produces precise technical functional parts out of plastic as well as complete subassemblies for various markets.

Within the InsBIOration project, we support the Leibniz Institute of Polymer Research Dresden e.V. and other partners in the electroplating of various types of plastics and the upscaling of the entire process. We are also involved in the development of recycling strategies of hybrid materials. Polydopamine-supported surface modification enables us to find new, environmentally friendly ways of metallizing plastics. By using polydopamine and analogues, the plastic etching process based on chromosulphuric acid can be excluded from processing chain. This new conception makes it possible to comply with the current REACH regulations. Due to the green adhesion promotion between plastic and metal, it becomes feasible to remove the bio-interface material to remanufacture failed metallization parts.